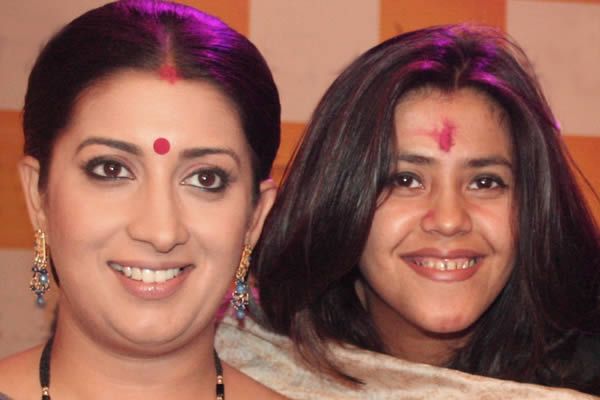 At a time when the entire nation is going gaga over Katrina Kaif's Instagram debut, there's another popular personality who has also joined the social media platform. Our Union Textile Minister Smriti Irani recently debuted on Instagram and good friend Ekta Kapoor can't seem to hold her excitement.
According to the soap queen she has just completed a very tough task. She finally convinced Smriti Irani aka Tulsi Virani to join social media. 
Ekta Kapoor welcomed Smriti on the social media platform by posting an adorable picture. 
Also Read: Really! Divyanka Tripathi aka Ishita Bhalla to die in Yeh Hai Mohabbatein?
It was a group photograph of Ekta Kapoor with Smriti Irani and Sakshi Tanwar which she captioned as, "Let's welcome my friend! A force to reckon with! Her meteoric rise stunned many but wat stuns me more is how rooted she is! Finally on instagram let's welcome Tulsi!"
The minister made her debut by sharing a throwback photo with a caption that read "Guess who's on Insta now #tbt #goodolddays". While the account hasn't been verified yet, it has already garnered over 9000 followers.
In another post, Smriti can be seen with Balaji head Ekta Kapoor and popular actress Sakshi Tanwar. 
"ektaravikapoor Thanks for pestering me to do this. Looks like a fun journey ahead #tbt #thosewerethedays," wrote Smriti.
Now that Smriti Irani is on Instagram, her fans will get to see more and more of her, all thanks to TV diva Ekta Kapoor.