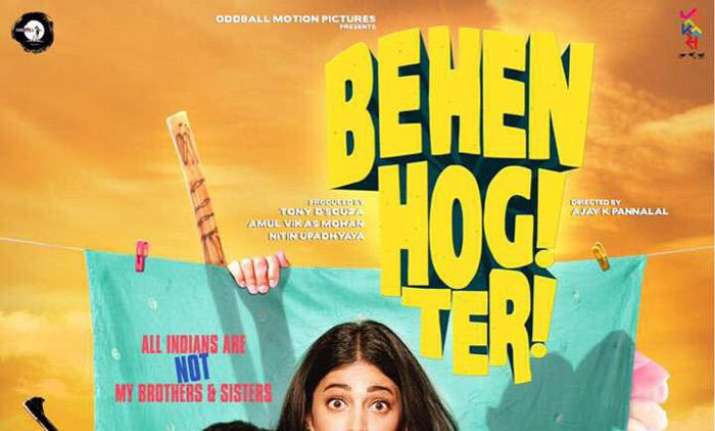 The makers of Behen Hogi Teri have released a new poster and it is filled with all the elements that film has to tell, that it is not just a regular Bollywood rom-com. Giving a hint of love without telling anyone, family, and chaos behind, and making the message clear that, "All Indians are NOT My Brothers & Sisters!"
The trailer of Behen Hogi Teri is already out and garnered positive rave reviews. The story is set in northern India which brought fun satire over struggle faced by the guys in their dating game. And also talk about how societies take on forcing boys to be titled as a brother, pissing off everyone who falls in love in their gully. And Director Ajay K Pannalal made sure to depict the story in the same manner as it, which makes it so hilarious!
Pesh kar rahe hai #BehenHogiTeri ka naya poster!
Check out the new poster. Film Releasing in cinemas on 2nd June. pic.twitter.com/5EkvWW2yPb

— Behen Hogi Teri (@BHTtheFilm) May 19, 2017
Also Read : Behen Hogi Teri: 4 things we liked about Rajkummar Rao starrer
The casting of this movie seems impeccable, every character is unique on their own, and story not only revolves around the protagonist's character. Shruti Haasan shines as not only eye-candy but substance to the character. 
But real surprise to watch would be to see Rajkummar Rao playing a not so serious, method-acting type role in this movie, and he still seems hilarious in it. It also seems, he has decided to take a break from serious roles and it's good that he did, after his performance in Trapped.