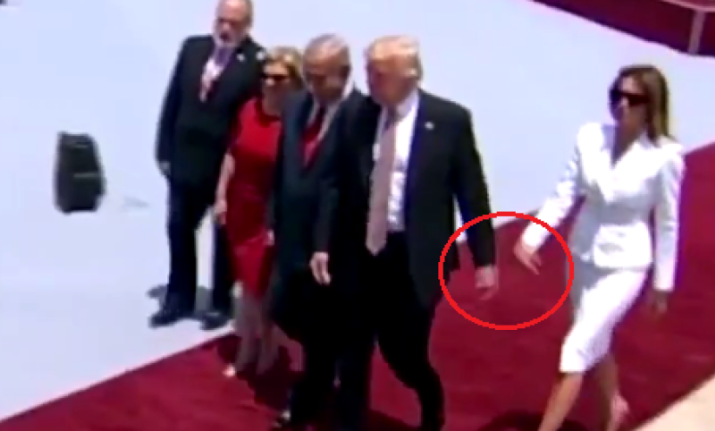 Well, Melania Trump couldn't fake it even in front of cameras. She has been spotted nudging, frowning and now swatting President Donald Trump. This happened during the US first couple's visit to Israel. US President was walking side-by-side with Israeli Prime Minister Benjamin Netanyahu and his wife Sara, while Melania was a step behind. Trump extended his hand to the First Lady, who promptly slapped it away while walking down the red carpet at Ben Gurion airport.
Well this is embarassing https://t.co/XaPL1AbCm5 pic.twitter.com/mumhuQHDFz

— Haaretz.com (@haaretzcom) May 22, 2017
This was another incident that showed the strained relationship between the first couple. As usual, Twitter picked it up fast and comments started pouring in on their body language. Some Twitter users were glad and were lauding Melania. One user wrote:"Go Melania. She wasn't having it. Well at least we Know now that someone in the Family Hates Trump as much as the Rest of America."
In this moment Melania is America. Melania is the world. Melania is all of us.

— Tom Toro (@t_b_toro) May 22, 2017
When even your wife can't stand you...@MrScarce https://t.co/GzWhATiXry

— Crooks and Liars (@crooksandliars) May 22, 2017
Latest daydream:
Trump tries to hold Melania's hand, she swats it away, takes off a Louboutin & drives the spiked heel through his forehead

— #SUGAR BOUVIER (@SugarBouvier) May 23, 2017
Some were sympathetic towards Melania
I can't think of anything sadder than being in a loveless marriage on public Display on The world stage

— Annie Fox (@Annie_Fox) May 22, 2017