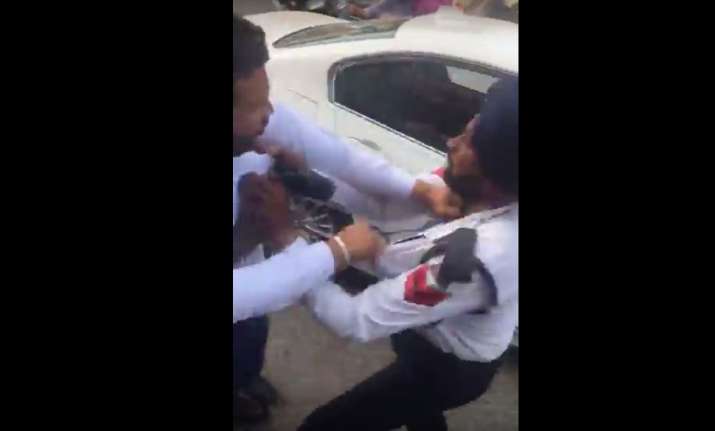 Heat wave hasn't spared anybody. Seems like this 29-year-old man couldn't contain the scorching sun anymore and he lost his cool apparently for no reason. The man has been arrested for slapping and punching a traffic police constable in Punjab. According to the reports, the cop stopped Himanshu Mittal's BMW as he was driving his luxury car on the wrong side of the room. This made Mr. Mittal lose his calm and assault the traffic police constable. A bystander slipped out his phone and filmed the entire event and posted on social media. In no time, the video started doing rounds with mixed opinions about the incident. 
What happened actually? 
Constable Prakash saw Mr. Mittal's BMW driving on the wrong side of the road in Patiala's Khanda Chowk. He tried to halt the car and asked the owner of the car for a license and other relevant papers. The matter soon slipped out of hands as Mr. Mittal started having a heated argument with the constable. Things took an ugly turn when he came out of his car and assaulted him. 
He is clearly caught on the camera verbally and physically abusing the policeman. He slapped, punched and tore his uniform as well in the two-minute long video. Mr. Prakash hits back at one point when his temper broke lose. The bystanders and fellow police officers intervened to get the situation under control. 
It's going to be tough for Mr. Mittal as he has now been booked under the non-bailable offences of obstructing a public servant and assaulting a public servant. He was sent to a 14-day police remand on Wednesday. Constable Prakash didn't suffer any serious injury from the assault. According to Prakash, Mr. Mittal didn't have a license or a car's registration paper with him when he was asked to pull over.