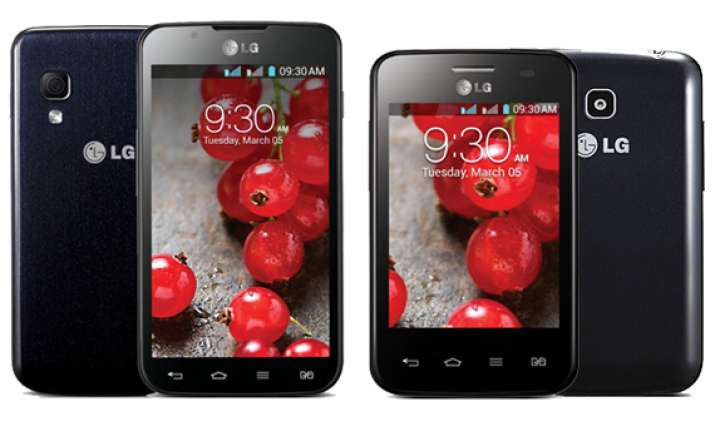 New Delhi, April 10: LG Electronics has launched Optimus L-series II smartphones - LG L7 II Dual and L3 II dual, its next generation of Optimus L series devices, in the Indian market. The L7II is priced at Rs 18650 and the L3II is priced at Rs 8800. Both are dual-SIM devices.
LG's Optimus L Series, which made its debut at Mobile World Congress last year, is selling at a phenomenal rate. With more than 10 million Optimus L Series phones sold in the first 10 months, L SeriesII looks to continue this momentum with its sophisticated style and differentiated features.
The company's L series, which represents the mid-range of its line, has helped boost its standing in the Android marketplace. LG faces strong competition with Apple and Samsung, the dominant forces in the mobile market.
These new smartphones add four new design elements to LG's design philosophy- Seamless Layout with minimalistic contours and graceful edges, Laser Cut Contour, Radiant Rear Design with pebble-like accents and Smart LED Lighting on the home button. Here's a look at specifications of both the smartphones.
LG Optimus L7 II Dual
The LG Optimus L7 II Dual is a high-end smartphone that is powered by a 1 GHz dual- core processor, has 4 GB internal memory, 2,460 mAH battery and a 4.3 inch IPS display with 400 x 800 pixel resolution. The 8MP camera comes with LED Flash and is capable of taking pictures via Voice Commands with CheeseShutter. The L7 II smartphone comes with some very useful apps that are typical of LG phones, like the QuickTranslator, which can recognize a foreign language and translate it into a language of your choice, the QSlide, which promotes multi-tasking by allowing you run two functions simultaneously and Live LG Mobile TV which allow you to watch 50+ live channels on the go.
LG Optimus L3 II Dual
The LG Optimus L3 II Dual has a 3.2 inch IPS display and is powered by a single-core 1 GHz processor. It runs on Android Jelly Bean and packs a 1,540 mAH battery. It is a dual-SIM device that has a 3MP rear camera and 4GB of internal storage. It has features like like- Smart Forwarding, which helps manage calls between both the SIMs, Safety Care feature which can make quick contact to selected persons in urgent situation through Emergency Call Forwarding and My Location Notice, and LG's QuickMemo app for an easy way to jot down notes.