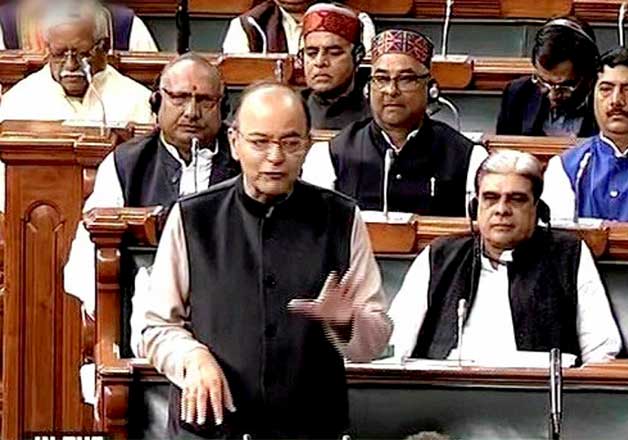 Union Finance Minister Arun Jaitley has said that the fiscal deficit situation is much better that what it was during the erstwhile UPA regime.
Wrapping up a debate on Union Budget 2017-18 in the Lok Sabha on Thursday, Jaitley said, "The NDA came to power in 2014, the fiscal deficit was 4.6 per cent, and it came down to 3.2 per cent during the present government."
He expressed hope that next year it will be at the level of 3 per cent. 
Criticising the UPA policy of cutting the expenditure in various sectors which led to slow growth, he said, "The Budget Estimates during UPA government in 2012-13 was 5.21 lakh crore rupees but it spent only 4.13 lakh crore rupees."
On inflation, he said, the RBI has now targeted it at 4 per cent but currently it is at 3.6 per cent.
He also hit out at the Congress over high NPAs of banks saying that it was the legacy of UPA government. "The present government increased the expenditure in various sectors especially in rural areas," the Minister said. 
"Revenue collections have gone up by 17 per cent in last two years. Post demonetisation, the VAT collections of the states have also gone up except two states," the Finance Minister said.
"The currency which has come back into the banking system will increase lending capacity of banks," he added.
He said that the RBI will release the accurate figure of amounts that came to the system after completing the whole exercise. 
Jaitley also mentioned that India is a high cash economy as compared to the advanced and emerging economies of the world which leads to parallel economy, corruption and tax evasion. 
He said that the contentious issues related to the GST have been sorted out with consensus and once implemented, it will lead to an efficient tax system. 
Jaitley said that it is the first budget in which the government has not increased the tax burden except in one sector. 
"Government is focussing on rural areas and it has allocated 1.86 lakh crore rupees in the Budget towards this," he said.
On political funding, he said, "The government is open to suggestion to make it more transparent."