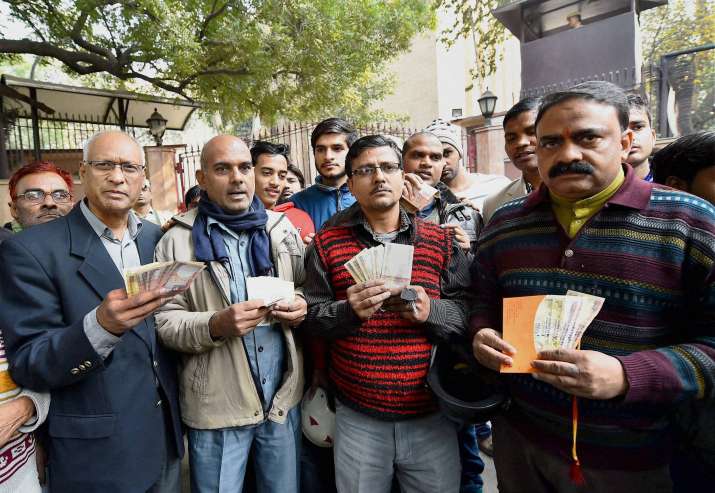 In a major blow to Centre's plan to save early Rs 5 lakh crore through demonetisation drive, nearly 97 per cent of scrapped Rs 500 and Rs 100 notes have been deposited in the banks, a media report said today. 
Banks have received Rs 14.97 lakh crore of the demonetised Rs 15.4 lakh crore as of Dec. 30, Bloomberg reported, citing sources. 
The government had estimated that about Rs 5 lakh crore of the black money would be rendered worthless by the move, as per the Attorney General's submission to the Supreme Court.
The Reserve Bank of India has not provided a final data on how much of the scrapped currency was deposited in the banks. The last official data was given by the RBI on December 13 when it said that Rs 12.44 lakh crore of the old Rs 500 and Rs 1000 notes had already been deposited. 
As per RBI Annual Report 2015-2016, as of March 31, 2016, the value of the total "Specified Bank Notes" (SBN) was Rs 14.18 lakh crore. However, the government told the Rajya Sabha that on November 8, 2016, the total SBN in circulation was Rs 15.44 lakh crore.
Prime Minister Narendra Modi announced the move to scrap high value currency notes on November 8. Almost 86 per cent of the total currency in circulation ceased to be a legal tender with the announcement which the PM said was taken to curb black money, stop counterfeiting of currency and stop terrorist funding. 
The government was expecting Rs 10 lakh crore to come back into the banking system, the government had told the Supreme Court during hearing on a plea against the move which created an unprecedented cash crunch in the country.